Fraser Yacht Sales
1818 Maritime Mews,
Vancouver BC, V6H 3X2
Tel:604.734.3344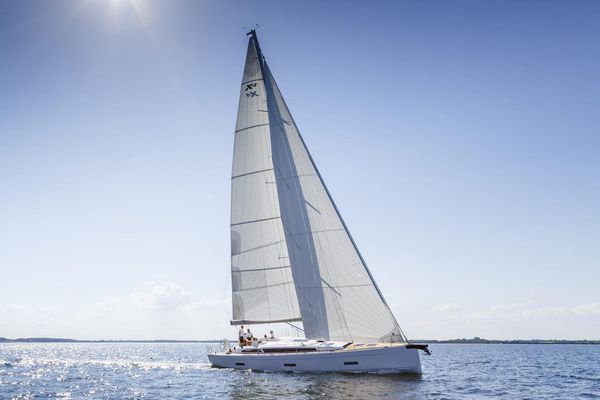 The 'X' range displays a true embodiment of the key features, which sets X-Yachts apart from the competition. Truthfully following the passions X-Yachts has always adhered to, designing and producing yachts which deliver Superb Sailing Pleasure.
The X4⁹ offers a wealth of features which enables the crew easy handling in all conditions. Whether doing family sailing trips, long distance blue water cruising or competitive sailing the X4⁹ offers the best combination of everything X-Yachts has developed over the years.
The X4⁹ utilises vacuum infused epoxy lamination, giving the ability to save weight. This is paramount to increase the weight of the lead keel bulb, lowering the centre of gravity, assisting the hull to drive through the waves. This is key to delivering a stiff yacht without the keel draft being extreme, enabling the X4⁹ to moor in shallower waters. The hull is available in a number of colourways and is oven baked, enabling the option of dark topsides without the risk of surface deformities. The hull topsides include six large portlights, with a further 8 openable coachroof portlights on deck for optimum light and ventilation. In addition to this the forward face of coachroof is fitted with curved toughened glass, maximising interior light. All of these combined make below deck feel light, airy and spacious. For when you are at anchor, there is a large electrical operated bathing transom door, which allows easy access to the water, and a dinghy garage for storing up to a 2.7 m inflatable.
As you step below deck you will notice the spacious entrance with laminated raw teak steps, to prevent slipping, and elegant laminated teak handrails. There are a number of layout options available, all beautifully presented in a modern and internationally recognisable style and quality. Standard Oak veneers in a Nordic style or with an option for teak, white vinyl paneling, teak laminate floor boards, bright white walled bathrooms with teak gratings and Corian worktops with integrated Corian sinks (Q Pack).